The teaching dimension of Bělohlávek's professional career started to gain importance in the late-1980s. He tried working with musical youth on a larger scale already in 1987 within the International Youth Philharmonic project, in which he rehearsed and conducted a concert tour of a one-hundred-and-twenty-member orchestra consisting of students from conservatoires and academies from six socialist states. The educational aspect of his conducting became even more prominent after the founding of the PKF – Prague Philharmonia, which consisted of young instrumentalists of about twenty years of age.
An Academic Teacher


Life and the Creator bestowed many gifts on me. When I became aware of them, I started to be interested in what ways I could give something back, pay it back. And this is one of the ways to pass on what I have gained, to give to the young what I have gathered.
Bělohlávek's first institutionally anchored teaching position was between 1990 and 1995 when he was Tomáš Hanus' conducting teacher at the Janáček Academy in Brno. Bělohlávek became, on Hanus' request, an external teacher at the academy. Due to the minimal number of students, his teaching was usually in the form of the two of them discussing scores at the piano. "I felt that he was forming me in his image, that he was not imposing his gestures on me. He tried to pass on some fundamental technique but in such a way that expressed his great respect for the student's personality. He tried to discover the way that would work the best for me instead of forcing me into something. I have never experienced such respect from anyone else." [ 3 ]
Bělohlávek had a much larger number of students later at the Academy for Performing Arts in Prague. He started his teaching position there in 1995 and two years later he was appointed professor by president Václav Havel (1997).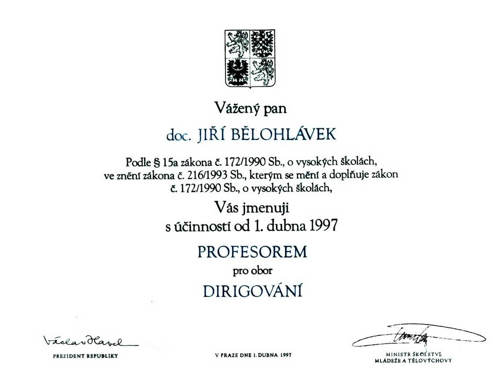 Together with his colleagues František Vajnar, Josef Kuchinka, Radomil Eliška, Jiří Chvála and Tomáš Koutník, Bělohlávek helped develop the department of conducting. During his era, students had the opportunity to conduct a full-length concert on a regular basis which enabled them to get acquainted with the demands and trickiness of their profession. Bělohlávek saw in this possibility of real practice one of the most important points in the study process. He always emphasised how important it was for an artist to have the opportunity at every stage of his or her development – especially during or shortly after the study years – to apply acquired skills while solving and tackling real tasks. It is therefore understandable that when the department lost the privilege of such – financially demanding but indispensable – concerts and Bělohlávek's efforts to renew them failed, he first limited and in 2009 ended his engagement at the Academy.
I am actually quite sceptical about the possibilities to teach conducting. Teaching conducting is a tricky thing and what can be taught are only the fundamentals of conducting technique and general rules concerning communication through gestures. Everything else is given by the mutual relationship between the teacher and the student, so that the teacher is not limited by the student's personality on the one hand, and the teacher does not make the mistake of imposing his own opinion on the student on the other hand. In the subtle balance of these two poles, there lies the secret of a successful relationship between a student and a teacher. A prerequisite of it is their mutual openness and good relationship.
As a teacher, Bělohlávek believed in an open relationship with students. He was aware of the fact that such a relationship bears in itself mutual influence in which both sides give and get at the same time. In addition to lessons and sharing practical know-how, he invited his students to rehearsals of Prague-based orchestras, he had discussions about technical and personal problems connected to the profession, and shared his conducting experience with his students. And he inspired them by his work and personality.
My teaching activities were very enriching for me, I was lucky to have taught interesting and eager students and that my whole involvement at the Academy brought me joy. (…) Every single one of the young men I taught was a world in itself, and it was a challenge simply to reach them, as everyone had their own inhibitions and a manner of approaching the teacher. In some cases, I really had to search in which way to approach them so that it would not be difficult for them to accept what I wanted to pass on.