Published here by courtesy of the author Jitka Novotná and Verzone Publishing.
---
Where does Jiří Bělohlávek like to dine?
This artist, known around the world, appears noble and dignified on the stage, and introverted and reserved in personal contact.  He will not lose his dignity under any circumstances. We had met in front of the camera several times and, every time, I could barely breathe how nervous I was, or I could even say, how afraid I was. I forbade myself to think about him in connection with my talks about food. But in time, as I was meeting other artists to talk about food, I began to see the picture of Jiří Bělohlávek as a gourmet. And, believe me, it was tantalizing. And the encouragements I got – from Ivan Ženatý, Jakub Hrůša, Dagmar Pecková, Štefan Margita … But when finally in 2013 after the well-known performance of Má vlast in Litomyšl, I sighted Maestro Bělohlávek surrounded by his musical family – yes, many people such as the conductors Hrůša and Hanus, the CEO of the Czech Philharmonic David Mareček, all of them with their partners and children born and yet unborn – I plucked up the courage. Jiří Bělohlávek asked for a day to think it through and the following evening he uttered the sweet sentence: "I like it."
Maestro Bělohlávek, what does food mean for you?
It means pleasure and joy, and always has. I enjoyed eating already as a child, and there was hardly anything I would not eat. My mum used to cook classic Czech cuisine influenced slightly by variations of French lightness, which she liked. Poppy-seed sweet buns were her speciality, that was really her masterpiece.
Where did your mum get the French inspiration?
Well, you must not take me word for word. All of my mum's cooking lacked that classic Czech heaviness. When, later in my life, I got to know the deliciousness of French specialities, I gave her style this name in retrospect.
If we talked about Czech meals only, would it be enough for you?
Sure. I see the Czech cuisine as very rich and inventive. The legacy of our grandmothers as far as vegetarian dishes are concerned is remarkable. I love škubánky (a kind of potato gnocchi) either sprinkled with poppy-seeds or savoury. My friend Sascha Rudayev in the US, a medical doctor by profession, an enthusiastic musician and talented composer taught me to make "přesbidlo" (some kind of potato spätzle). He brought it from the Czech Jewish tradition,  and he made "gefilter fisch" for me as well – oh how delicious that was! Thanks to my wife,  Slovak cuisine is something very close to me as well – halušky with bryndza, strapačky (different types of potato dumplings), bobaľky (sweet bread dessert) with poppy-seeds, tekvicový prívarok (pumpkin with cream), duck with potato pancakes – those are all meals from a dream. Or delicious žincica (drink made of sheep milk whey) and fresh sheep cheese that always belonged to our wanderings in the Slovak mountains and our stops at shepherd's huts.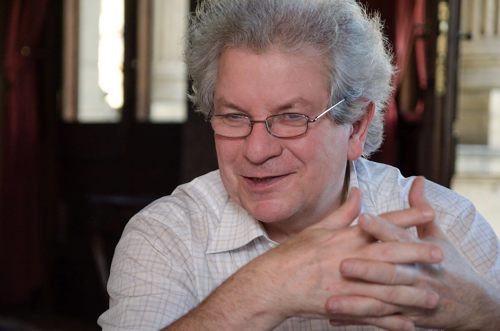 Jiří Bělohlávek during our interview | Photo Andrea Filičková
Excuse me, you mentioned přesbidlo? Could you please tell us more about the dish?
I will not remember the exact recipe, but I know it was a combination of potatoes and pasta, with onion and cheese.
What is served to guests at the Bělohláveks? Do you have a well-established menu you are always successful with?
My wife and I have several recipes that never fail us, but I cannot reveal them as it would spoil the surprise effect!
How much time are you willing to spend preparing such a feast?
It depends on the situation, but when we have guests, we usually give ourselves enough time to get everything ready without hurry. The preparations are actually the first part of the evening. 
What was the first ever meal that you cooked for someone?
Probably an omelette with tomatoes, which I liked to make for Sunday breakfast for my surprised parents as a kid. Of course, I kept it in my repertoire as a father of a family.
Since you touched upon your role as father, I would like to know if you fall into the category of "pampering fathers" who appeared after days and weeks of absence with many sweets to offer?
Sure. But I would not bring only sweets, I also loved going around shops and choosing beautiful outfits for my two little girls, who were three and a half years apart. Two dresses, one smaller, the other one larger, I enjoyed that so much. I wasn't very strict in my role as daddy, but I tried to be consistent. From time to time, I had a disciplinary function in my absence. The magical formula of "What would daddy say?" is said to have had great effect.
Cooking is an occasional hobby for you nowadays. How have you developed your art of cooking over time, what can you make?
I can make many things, but I don't like to boast theoretically, when I cannot show it in real. In any case, I learned many important meals from my mum, the most typical example being the already mentioned škubánky with poppy seeds. I've had even some funny moments with this recipe. Once in the US when our hostess persevered in asking us about a typical Czech meal for so long that my friend Sascha and I offered to make škubánky. It started by the nice lady asking us the naïve question of how many potatoes we were going to need, if two were enough. We replied that we needed two kilos, and readily bought them in a nearby shop. We borrowed a suitable pot from the neighbours and bought the poppy seeds in peculiar packaging, in ten tiny bottles (since in the US, poppy seeds are considered addictive), and began to crush them with a rolling pin on a plastic cutting board. During the preparations, it transpired that neither of us had ever prepared the meal alone and so we shared ideas about how to proceed before, in the end, we were ready to serve. Our hostess and her husband managed to eat one tiny bit and found some polite words of praise; the two of us enjoyed the meal immensely and got massively stuffed. I have spread my passion for škubánky elsewhere as well – our friends in England started to love them sincerely. On one of my journeys to England, I packed a package of poppy seeds and a grinder so that they could cook this delicious food at home.